How to Make Magic – Sharon Finmark and David Wickers
Listening The Mystic Menagerie Podcast with Dan Baines and Freddie Valentine discussing growing up with all things bizarre reminded me of an old magic book I owned in the seventies.  You may  have come across it as it has already been discussed in a couple of blogs;
'How to Make Magic' from 1974. A children's handbook of the occult. No, really. and Before Harry Potter there was 'How to Make Magic' a children's guide to practicing the occult.
I really loved this book, but it is only on revisiting it this week that I'm reminded of what a gem of the seventies this is. You see, 'How to Make Magic' seems to innocently(maybe) and seamlessly(almost) blends magic and magic(k), making no excuses for either. Levitations are taught beside love spells, vanishing candles and voodoo sit side by side.   Just happy to play with a joy of magic behaviour and free from the garbage of prohibitive belief and fear mongering,
Yes OK sometimes – as the blogs above suggest –  the book reads like a parody from Scarfolk, but it's more complex than that.  Delightfully complex, how quickly we lose the joy of ambiguity.
I suppose with can see shades of something similar today in the toys of …WishCraft – but this is unflichingly modern and boho.  It feels too grown up too soon, something we see too many times in kids' toys these days.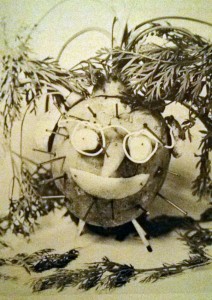 How to Make Magic will remain a snapshot of my childhood, the seventies and the delightfully alternative and crazy ways often kids were allowed to spend their time.
It's my kind of magic.